Order women's swimsuit online at Magic Hands boutique
Get ready to make a splash this summer with the hottest swimwear trends for women! Whether you're lounging by the pool or hitting the beach, there's no better way to show off your style and confidence than with the perfect swimsuit. From bold patterns and vibrant colors to flattering cuts and innovative designs, this season's swimwear options are sure to make a statement. Dive into a world of fashion and embrace your inner beach goddess with the latest trends making waves. Discover the must-have pieces that will keep you feeling and looking great all summer long. So grab your sunscreen, put on your sunglasses and get ready to turn heads in the season's most stylish swimwear. It's time to embrace the sun, sand and sea in style!
The bathing suit is back. Where we used to parade around in our bikini, we now shine in our swimsuit.
In the development of swimwear you see that swimwear not only became more functional, swimwear also became more and more naked. In the 20 th century, a new body culture emerged in which tanned skin was no longer associated with outdoor work (peasant and working class) but as a sign of wealth. This showed that they had time to travel or relax instead of working in an office or factory.
We have a wide range of various types of women's swimsuits in different styles, sizes, models and colors. Not sure which choice to make? We will help you to shine again this summer!
The big difference between a bathing suit and a bikini
The bathing suit consists of one part, while a bikini has two parts. This brings some practical advantages that are a bonus. This means that your belly is neatly concealed in a bathing suit. If you don't have the tightest stomach, your pregnancy has left stretch marks or you just don't feel completely comfortable showing so much bare skin, a bathing suit is the solution. Because swimsuits consist of one part, it is often tighter than a bikini. This has a slimming effect that can be enhanced by choosing a swimsuit in a dark, solid color or with a vertical, minimalistic pattern.
What are the advantages of the bathing suits?
1) You can use it as outdoor clothing. If we are girls who don't mind being wet or if our swimsuit dries up immediately because we go to the beach at the hottest moment, the swimsuit is our great ally. There is nothing better than going to the beach at 10 am and being able to eat in the same swimsuit at 2 pm in the restaurant next door. You just need a pareo or a skirt and that's it. In most beach restaurants in the world you are not allowed to eat with a bikini top, just as men cannot go without a shirt. Therefore, the bathing suit has an additional advantage.
2 ) Being able to exercise. Often when we go to the beach we come up with completely unexpected plans. Like scuba diving, jumping off a cliff into the sea or paddle surfing... to experience all these adventures, the swimsuit will undoubtedly be your best option. It will not move from its place at any time and you will feel completely free
TIP: Swimwear stays beautiful for the longest time by immediately rinsing the clothing with lukewarm water and mild detergent after swimming and/or sunbathing and then letting it dry lying down (preferably in the shade).
Which bathing suit if you have a tummy?
If you want to feel comfortable and camouflage your tummy when choosing a bathing suit, there are several styles to consider. Here are some tips and suggestions:
Ruffles and pleats: Swimsuits with strategically placed ruffles, pleats or draped material can distract from the tummy area and flatter your figure.

Dark colors: Dark colors, such as black or deep shades, often have a slimming effect and can help to make your tummy less noticeable.

Prints and patterns: Choose swimsuits with bold prints or patterns that draw attention away from the tummy area and draw attention to other parts of your body.

Structure and texture: Textured swimsuits, such as ribbed fabrics, can help cover up blemishes and make your figure appear smoother.

Shapewear swimsuits: Some swimsuits have built-in shapewear panels that support and smooth your tummy for a streamlined look.
Which women's swimsuit best suits your figure?
Apple figure: You should wear a women's swimsuit that adequately covers and supports your bust; choose one with a full cup and wide ropes
Pear figure: You should draw attention to the upper part of your body to balance your figure; you can do that by using a very deep neckline, top boleros and sleeves.
Inverted triangle: You should accentuate your hips to balance your figure, so you can wear one-piece bathing suits with boleros at the bottom. Avoid prints and lace at the top.
Rectangular Figure: Wear women's bathing suits that draw or form an hourglass shape on your body; This can be done with design, colors or shape.
Hourglass Figure : If you have this body type, you're in luck! Regardless of your size, you can literally have any swimsuit you want because they all fit you.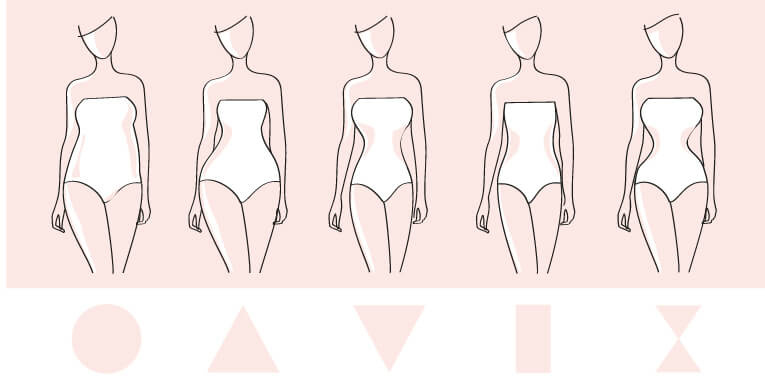 How tight should a bathing suit be?
It is important that a bathing suit fits well and feels comfortable, but the degree of tightness may vary depending on personal preferences and intended use. Here I explain how a bathing suit should fit and what you should pay attention to when choosing the right fit:
1. **Comfort**: A bathing suit should feel comfortable. It should not be too tight so that it does not restrict your movement or cause discomfort. On the other hand, it should not be too loose, because that can cause unwanted creeping up or sliding down during swimming.
2. **Control**: Many modern swimsuits have built-in control panels or stretchy materials that provide light compression. This can help shape and support your body without causing uncomfortable pressure.
3. **Chafing**: A well-fitting bathing suit should not leave any chafing, irritation or red marks on your skin, especially in sensitive areas such as the shoulders, neck or groin.
4. **Freedom of Movement**: The swimsuit should give you enough freedom of movement to comfortably swim, sunbathe or do other activities without restrictions.
Tips for determining the correct tightness
1. **Size Chart**: Always refer to the size chart of the specific brand or manufacturer. Sizes may vary, so please measure yourself accurately and follow the size chart recommendations.
2. **Try on**: If you have the chance, try on the swimsuit before you buy it. Walk around, moving your arms and legs to make sure it feels comfortable and not restrictive.
3. **Elastic Material**: Many bathing suits are made of elastic materials such as spandex, which provide some stretch and freedom of movement. This can help achieve a good fit without feeling too tight.
4. **Maintenance After Wearing**: Please note that some swimsuits, especially those made of stretchy fabrics, may stretch slightly after wearing and washing. If the bathing suit feels a little tight at first, it may fit better after wearing and washing it a few times.
5. **Adjustable Straps**: If you have a swimsuit with adjustable straps, you can adjust it to your body to achieve a comfortable fit.
6. **Shaping Swimsuits**: If you're looking for a corrective fit, opt for a swimsuit with built-in shaping panels. These can shape your figure without causing discomfort.
In short, a well-fitting bathing suit should be comfortable and allow you sufficient freedom of movement, while at the same time shaping and supporting your body. Try on different styles and sizes to find the ideal fit for your body and activities.